Opened a route the other day to find it's butchered all of my stations. All the platform splines have attached themselves to random OHLE, fence and even grass spline points on opposite ends of the route! Basically the whole route looks like this: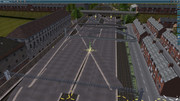 Also it hasn't added spline points, so deleting the offending section will delete half the station, and part of a random hedge somewhere...
I'm thinking the correct course of action is just "Restore from backup, swear a lot, and rebuild any changes since I backed it up", but I'd like to know what in the name of sanity actually happened, if only to stop it doing that again. Possibly of note, when I went to open it, it was marked faulty, and after clicking "view errors", it thought about it for about 5 minutes before spitting out
Quote:
Error: The Tag 'thumbnails' is not permitted within a container of type 'map'.
umm, Wut??
Opening for edit and committing again cleared that, but then it opened up to the mess as described above.
Sometimes I wonder why I bother, since half the time I make changes to a route, Trainz has an aneurysm and I'm forced to recover from a backup...